Company founder
Max Baermann (*12/02/1903 in Cologne; † 02/04/1984 in Bergisch Gladbach) was a German developer, inventor and industrialist. In 1926 he founded the Max Baermann company in Cologne, initially at his private address, together with his partner Fritz Diflo. The first official address was "Max Baermann Ingenieur", Deutscher Ring 30, in Cologne. The company then moved to Waltherstraße 78 in Cologne Dellbrück in 1935. There he produced the magnets required for the loudspeaker of the Volksempfänger (table-top radio). During this time, he also developed magnets for the angular drive of motor vehicles.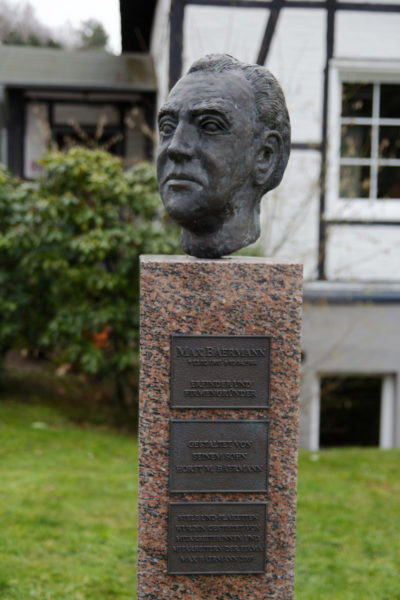 In 1943, bombing raids on the cathedral city forced him to move to Bensberg in the charming Freudenthal valley surrounded by woods. In 1944 the official company name was Max Baermann Techn.-physik. Laboratorium, Wulfshof 1, in Bergisch Gladbach. After the end of the war, his research laboratory helped to repair some 43,000 measuring instruments from power plants to get the energy supply back online. Together with a company from Lippstadt, hundreds of thousands of bicycle dynamos were produced, equipped with magnets that were originally intended for the speed sensors of aircraft engines.
Youth and early career
Max Baermann came from a Rhenish family that had been living in the Krefeld-Dortmund-Paderborn-Cologne area for 300 years. His ancestors worked, for instance, as doctors, pharmacists, silk manufacturers, chemists, senior civil servants.
While still at school Max Baermann took his first technical steps, learned how to make tools and experimented in his father's copper and brass works. He acquired the necessary knowledge through self-study. The eager-to-learn young man acquired knowledge from a precision mechanic that was to benefit him later. Soon he was repairing automobiles on his own account; he used the income to support his parents who had lost their wealth due to inflation in 1923. When he was about 18, he developed a floatless carburettor for a vehicle with an internal combustion engine (his first patent). An old friend of his father helped him become a freelancer at Dynamit AG in Troisdorf. He opened an experimental laboratory which was to become the nucleus of numerous pioneering inventions. It was there that Max Baermann developed Tromalit – the first plastic-bonded permanent magnet. It is the basis for numerous permanent magnet applications and a vital component for measuring instruments and electric motors etc. In 1934 he was granted a patent for this magnet. This marked the beginning of the company's success, which continues to this day.
Company history
1925 marriage to Hete Flanhardt. Birth of their two sons Jürgen and Horst Baermann (* 28/05/1935 in Cologne) Early death of his wife in 1948. Second marriage to Cilly Baermann née Offermann, birth of their daughter Astrid Baermann. Max Baermann was a nature lover who enjoyed collecting stones, drawing and who lovingly observed the animal world in Freudenthal. His motto was: "I have made it my business to think, as such I am not a very lazy person". Throughout his life he owned hundreds of patents.
In the 1950s, an American electrical company approached Max Baermann with a request to develop a magnetic safety lock for refrigerators, as many children had suffocated while hiding in dumped refrigerators, since they could not be opened from the inside. He accepted the challenge and developed a flexible magnetic tape that closes the refrigerator quietly and securely. This ensured that children could open the refrigerator easily from the inside.
Letter of thanks from the White House in 1977
In 1962, the son of the company founder, Phys.-Ing. Horst M. Baermann, joined the company as a laboratory engineer and founded numerous subsidiaries in Germany and abroad, including Rheinmagnet in Rösrath in 1966. In 1979, Baermann Magnetics Inc. was founded in Spartanburg, South Carolina. Several joint ventures with Indian and Chinese investors were successfully established in the 1990s. At the beginning of the 21st century, this was followed by the establishment of Baermann Magnets Co. Ltd. near Shanghai. (Suzhou, China).
On 21/09/2001 the companies and subsidiaries in Germany and abroad were merged under the umbrella of Max Baermann Holding AG. In 2006 Horst M. Baermann withdrew from the operative business and transferred his shares in Max Baermann Holding AG and the management of the company to his son Dipl.-Phys. Holger Baermann (* 30/05/1965). From 2007 to 2009, the long-serving, senior employee Dipl.-Ing. Alfred Heinrich sen. was appointed Chairman of the Board. Holger Baermann became Chairman of the Board of Max Baermann Holding AG on 01/01/2010.
In 2015, another production site, Baermann Magnettechnik GmbH, was founded in Lindlar. Production started at the end of 2017.